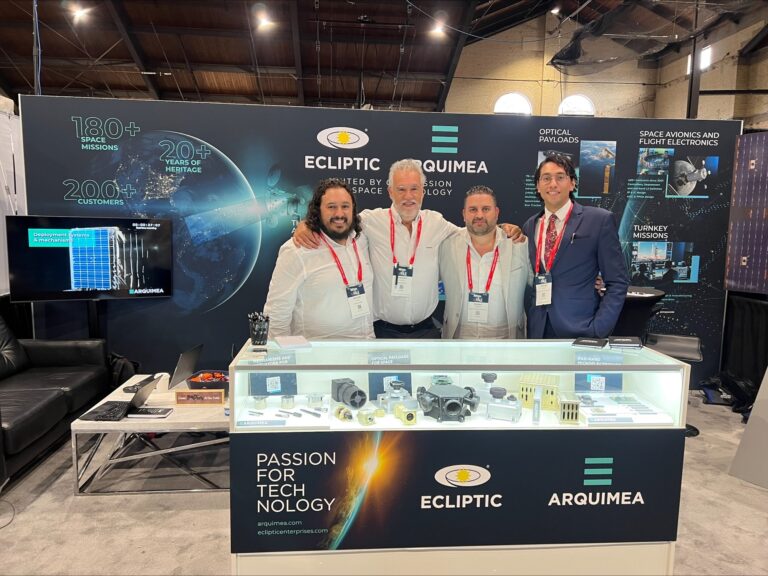 Ecliptic receives $5M investment from ARQUIMEA to support growth and accelerate new technology development 
 

The investment will support advancements in Ecliptic's rad hard cameras and space routers for lunar missions, multispectral high resolution optical payloads for Earth Observation and compact "smart" cameras for surveillance
ARQUIMEA recently acquired 100% of Ecliptic with California State Department' endorsement. The acquisition will support Ecliptic's growth and accelerate new products development.

 
Logan, August 9th. ARQUIMEA invests $5M in Ecliptic to support growth and accelerate advancements in Ecliptic's rad-hard cameras and space routers for lunar missions, multispectral high resolution optical payloads for Earth Observation and compact "smart" cameras for surveillance. Both companies highlight their technologies for the space sector in Small Satellite Conference that takes place in Logan, Utah until August 10. 
ARQUIMEA recently acquired 100% of Ecliptic. With this acquisition, ARQUIMEA consolidates its penetration of the US market and adds a new product line of space subsystems and Ecliptic expands its capabilities and capacity to keep delivering for the top space programs in the US. 
Mike Álvarez, CEO of Ecliptic "Ecliptic is deeply involved in the Artemis program and the investment will allow us to accelerate the transition of the products supplied to Artemis to other lunar or cislunar missions and customers. We are also excited to incorporate ARQUIMEA R&D capabilities in our products and to enhance the scope and geographical reach of our service and product offerings". 
The advancements in this product lines will be supported by Arquimea scientist and engineers developing state-of-the-art technologies in AI, robotics, quantum, and photonics. Arquimea technology infusion into Ecliptic's products has started with the integration of deep learning methods for active fire semantic segmentation and for objects detection, tracking and identification into Ecliptic's high-resolution multi-spectral payloads for low-cost and small satellites. 
Attendees can visit the technologies of the company in the booth 217 in the fieldhouse. 
About ARQUIMEA: 
ARQUIMEA is a Spanish technology company that operates globally in technically demanding sectors, such as the aerospace, defence, science industry, biotechnology and fintech sectors. 
With more than 18 years of experience, it collaborates in the space sector with the leading space agencies, such as NASA and the ESA, leading companies in traditional space and New Space, international consortia, universities and research centres. 
Today, ARQUIMEA has evolved into a comprehensive supplier with the capability to develop and manufacture entire satellites, systems, subsystems and critical components. 
About Ecliptic 
Ecliptic Enterprises Corporation is a leader in space avionics and sensors. Established  in 2001, the company has a long history of producing high reliability and radiation tolerant  space avionics and imaging solutions. From its facilities in Pasadena, California, Ecliptic  develops, manufactures, and tests modular systems embedded in satellites, rockets and  space vehicles for situation awareness, vehicle inspection and earth observation  imaging, data management, storage and networking modules, experiment and payload  data acquisitions and control, and sequencing, actuation, and deployment control and  capture. Ecliptic's typical systems range from heritage-based COTS to 15-yr Space  Grade systems allowing its customers to optimally configure their different mission  needs.